Menstrual Melody Tea
Menstrual Melody specially formulated for irregular cycles, PMS symptoms, heavy bleeding associated with painful cramping. Like a hug for your uterus!
Safe for breastfeeding.
Directions: Drink 1 cup daily 3 days before suspected cycle start date, continue drinking 1 cup daily throughout cycle. 
Organic Ingredients: Shepherd's Purse leaf, Motherwort leaf, Yarrow flower, Nettle leaf, Burdock Root, Red Raspberry Leaf and Ginger root.
TEA TIPS PRODUCT REVIEWS DISCLAIMER
---
Customer Reviews
Write a Review
Ask a Question
04/28/2020
Lauren C.
United States
I loved this product, it really helped my cramps!
This tea was so helpful
04/13/2020
Ashleigh
United States
Menstrual Melody Tea
My experience has been wonderful!!! I started using this product 4 days ago and my cycle that's lasted for 30+ days has completely disappeared! Being on birth control I tend to have VERY unpredictable cycles, but after the first day that changed! Soooo grateful for this tea. Highly recommend!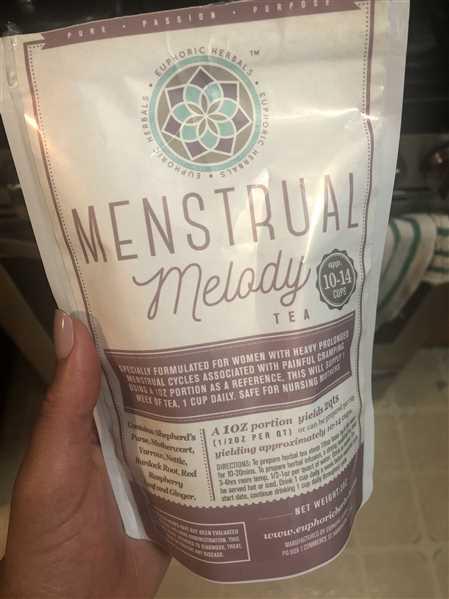 03/18/2020
COLLEEN C.
United States
Menstrual Melody Tea
This team has been wonderful in helping with *** symptoms/shortening a cycle/lessening cramp and clots. Wonderful! highly recommend!
It's So Amazing I Could Cry
Since going off birth control two years ago, my periods have slowly grown worse and worse until I was utterly incapacitated by extreme cramps and heavy bleeding. This is only the second month of using this tea and I feel... normal? Is this what normal is? Just a few twinges and a flow that isn't filling a menstrual cup every two hours?! I hope so, because I feel like I'm getting my life back. Do yourself a favor and try this tea. You won't be disappointed.