Headache ReLeaf Tea
This loose leaf herbal blend eases occasional headaches, migraines and hormonal pregnancy headaches. Drink as needed. Safe for nursing, not recommended for those with chronic low milk supply.

Organic Ingredients: Lemon Balm Leaf, Lavender Flowers, Skullcap Leaf, Passionflower Leaf, Peppermint Leaf, Citrus peel and Stevia Leaf. 
TEA TIPS PRODUCT REVIEWS DISCLAIMER
---
Customer Reviews
Write a Review
Ask a Question
I have dealt with headaches and migraines since my teen years and have recently been looking for an herbal remedy that will help with headaches so I do not have to take medication. This tea is beautiful! Its tastes amazing and smells amazing! I have noticed an improvement in my headaches. When I start to feel the pressure coming on I drink some of this hot tea and so far it has been extremely helpful, healing and soothing! I would recommend to anyone!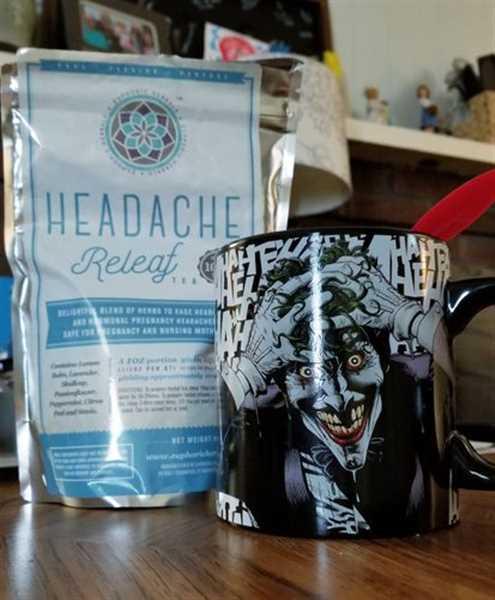 02/18/2019
Linda Collins M.
I have used Headache Relief Tea as a cold brew and that has been the best thing! I struggle with hormone related migraines during pregnancy so finding relief has been such a blessing! I will continue to purchase this product as needed! Thanks Euphoric Herbals for creating a tea that works wonders for Pregnant Mommas! ❤
Impressed!
The one complaint I've had this second trimester is headaches all the time. Some weeks it was several days a week, now it's down to about one thanks to some Chiro care. The frustrating part isn't just frequency but that NOTHING has touched it. No amount of Tylenol, essential oils, magnesium baths, massages, naps, etc will take it away. I decided this tea from euphoricherbals was worth a shot. Guess what? I'm here hours later and NO HEADACHE! Normally my headaches only get worse and make me nauseous, bed riden with 4 kids to care for too. So far I'm impressed, just like I was with their milk supply capsules last baby! .